Elie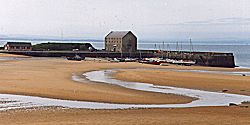 Elie Harbour at low tide
Elie's wide harbour is popular with water sports enthusiasts.

The town's name comes from 'Ailie of Ardross', the name of an island which now forms part of the harbour.

The neighbouring village of Earlsferry takes it's name from Macduff, Earl of Fife, who fled from Macbeth via the port at Earlsferry.

For the adventurous, the coastal 'walk' from Earlsferry to Shell Bay provides a challenge (especially at high tide) as a series of chains and footholds provide a means of navigating the rocky cliffs. On the way it is possible to see hexagonal basalt columns, like those that form the Giant's Causeway in Ireland. The columns are the result of prehistoric volcanic activity.