Largo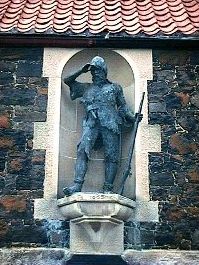 Largo lies on the coast, in the shadow of the extinct volcano, Largo Law. Largo Bay has a long stretch of sandy beach which is fringed by golf courses at Lundin Links and Leven. The village is actually split in two, with the Upper village, also known as Kirkton of Largo nestling near the foot of Largo Law and the Lower village hugging the coastline.

Lower Largo's harbour has an attractive setting at the mouth of the Kiel burn, overshadowed by a disused, but picturesque railway viaduct. Alexander Selkirk, a resident of Largo, was the inspiration for Daniel Defoe's 'Robinson Crusoe'. Selkirk ran away to sea and was marooned on the South Pacific island of Juan Fernandez in 1705 before being discovered and rescued some four years later. Along the street which runs parallel to the shore you can see a statue of Robinson Crusoe, on the side of Alexander Selkirk's old house.

Upper Largo's church sit's on a grassy knoll in picturesque part of the village, surrounded by cottages and overshadowed by the Law. Consecrated in 1243 it was refurbished in the 17th century with a spire. In the churchyard, at the church steps there is a stone with Celtic markings which may date from ancient times.