Andrew Carnegie
Dunfermline is the birthplace of Andrew Carnegie, whose life was an extraordinary tale of 'rags to riches'.
Born in 1835, the son of a weaver, Andrew Carnegie's family emigrated to America when he was a child. Andrew worked as a bobbin boy, telegraph operator and a railroad developer before becoming the 'Steel King of America'. Carnegie's steel empire, based in Pittsburgh, was sold in 1901 for $400 million. Carnegie retired as 'the richest man in the world'.
However, Andrew Carnegie did not forget his roots, and he believed that wealth should be distributed for the elevation and benefit of humanity. Throughout America he donated millions of dollars for the building of schools, libraries and colleges. To his home town he donated a library, public baths and Dunfermline's own Carnegie Hall. He also gave Pittencrieff Park to the town, for in his childhood, the park was the Laird's land, open only on special occasions.
Today, Carnegie's life is celebrated in The Carnegie Memorial Hall, which is attached to the weaver's cottage which was Andrew's birthplace.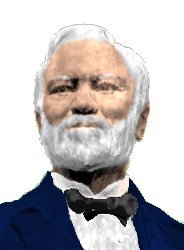 Andrew Carnegie